Mas de la Châtière

Welcome to Mas de la Châtière

| | |
| --- | --- |
| Les lieux et conditions de vie d'un STAGE sont largement responsables de sa réussite. Le Mas de la Châtière est isolé, calme et parfaitement adapté à la concentration nécessaire que requiert ce stage intensif de fonderie d'art. | A warm welcome is widely responsible for the success of a COURSE. The Mas de la Châtière is isolated, calm and perfectly adapted to the necessary concentration that is required for an intensive course in this form of art. |

Situation générale

--

--

General situation

Vous serez accueillis au Mas de la Châtière dont la bâtisse principale montée sur un promontoire est vieille de 300 ans. Au milieu des vignes, le mas est à 1km des premiers commerces sur la route des Caves de Cairanne, Vaqueyras, Gigondas. A 15 minutes de Vaison la Romaine, il bénéficie d'une vue exeptionelle sur le Mont Ventoux et les dentelles de Montmirail.

Cliquez pour agrandir

Clic to enlarge

You will be welcomed at the Mas de la Châtière which main buildings are 300 years old.We are surrounded by vineyards and are situated at 1km from the village and on the road leading to Vaqueyras, Cairane and Gigondas. The village of Vaison-la-Romaine is at 15mn from the Mas wich has an exeptional view over the Mont Ventoux (1930m) and the Dentelles de Montmirail.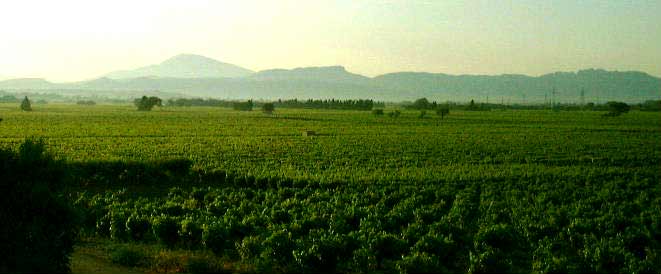 Hebergement -- -- Board and lodging
Le stage ainsi que l'hébergement ont lieux au mas.
Les stagiaires partagent des chambres (avec salle de bain) pour 2 personnes. Bien que le nombre maximum de stagiaires soit 5, le mas a une capacité d'accueil de 8 personnes pour les stagiaires désireux de venir en couple.


Vue depuis les chambres -- View from the bedrooms

View of the South front -


The training course as well as the board and lodging take place in the Mas. The students share double bed bedroom with comon bathroom on the landing. Although Thought the maximum number of students is 5, we have a capacity for 8 so that students can be accompanied by relatives.
La vie quotidienne à La Châtière-- -- Daily life in La Châtière
| | | |
| --- | --- | --- |
| Les stagiaires partagent la vie quotidienne du Mas. La cuisinière nous préparera des plats régionaux méditérranéens. Les trois repas (arrosés avec le vin regional...;-) se passent dans la convivialité et sont l'occasion d'échanges, de discussions et de divagations aussi riches et variées que l'origine des stagiaires!! | | The students share daily life in the Mas. The cooker is used to prepare Cuisine Mediteranéenne. The three meals (with regional wine...;-) take place in conviviality. They lead us to interesting and exciting discussions reflecting the various origins of the students. |
Stuart ROUSSEL

Mas de la Châtière

84290 Sainte-Cécile-en-Provence

FRANCE

Tel: 04 90 30 75 30

For calls from abroad, please dial:

(33) 490 30 75 30
WEBSITE & photos:
©Copyright 1999-2004 Fonderie d'Art Bronze